Cuvée is all about showcasing the best of Ontario wine and food, and the Grand Tasting on Friday night (Feb. 27th) is undoubtedly the highlight of the weekend. It's a given that the wines will wow – the winemakers are pouring their favourites.
Getting the wow factor right in the food department is a bit trickier, but a welcome challenge for the 13 chefs who will be serving up their special creations at the gala. In the next few posts I'll talk a bit about what a few chefs who will be at Cuvée have to say about the event.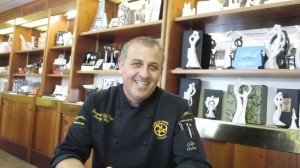 "Cuvée is one of my favourite events," says Chef Giovani Del Priore of Criveller Cakes. "It's work, but I enjoy it. People are beautifully dressed, it's very glamourous, the whole atmosphere is special. It's a chance for us to showcase our work," says Del Priore, who will be responsible for all the desserts. Del Priore, a veteran of Cuvée, is delighted to be returning. (To ensure and promote variety, the general rule is that chefs are not invited back for a few years. But, the Cuvée organizers have made an exception for Del Priore and his Criveller Cakes team — no doubt because they do such an amazing job.)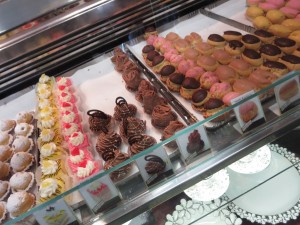 Chef Del Priore talked about the challenge he and his team face. "We have one of the largest stations – only the Fallsview Casino's station is bigger. The reason ours is so big is because pretty much all the guests eat dessert, while they might not try something at all the stations – most people eat at least one dessert," says Del Priore.
Last week a friend and I dropped in on Criveller Cakes and Chef Del Priore showed us around and talked about Cuvée. Click here to watch a short video of Chef Del Prioe talking about Cuvée. Warning: your mouth may water and you may find yourself craving chocolate.