Despite the sub-zero temps, a fellow writer and I bundled up and headed down to Niagara-on-the-Lake for Days of Wine and Chocolate.  You know it's going to be a good day when your first stop involves bubbly — and Peller Estates' Ice Cuvée Classic never disappoints. The traditional method bubbly pairs very nicely with the dark, rich sea salt caramel infused Valrhona dark chocolate truffle they are serving up for the event.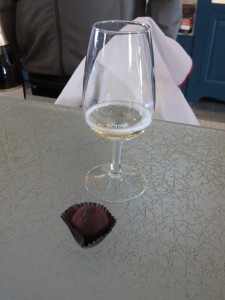 We then popped next door to the Two Sisters Vineyards — one of the newest wineries in Niagara-on-the-Lake.  It's only been open for a few months, but you'd never know it when you walk it. It's definitely built with the idea of being a destination winery. They have a restaurant on site: Kitchen 76, which gets its name from the fact that the winery property is 76 acres.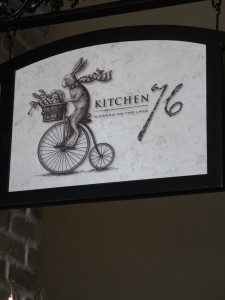 For Days of Wine and Chocolate they are serving their 2011 Eleventh Post, a red blend, paired with a roasted mushroom crostini with gorgonzola and a drizzle of their chocolate-infused "Agrodulce sauce". Though the crostini was just a nibble, it was a sophisticated melding of tastes that reflects well on the culinary talent in the kitchen.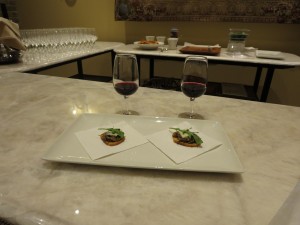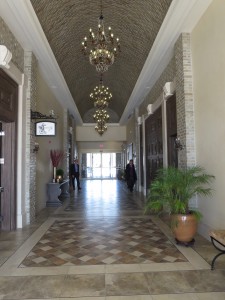 Our favourite pairing of the day was at Reif Estate Winery– they are serving a chocolate chicken tortilla soup that has a little heat on the finish. The soup pairs very well with their 2011 Merlot.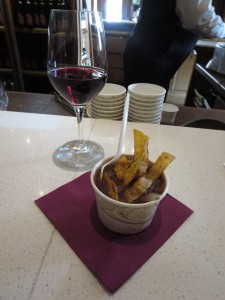 We stopped in at PondView Estate Winery because I was interested in learning about Burnt Ship Bay wines, which were just released at Vintages. I knew there was some connection between Burnt Ship Bay and Pondview, but I wasn't sure whether Burnt Ship Bay is a virtual winery that Pondview hosts.
It turns out that the winemaker behind Burnt Ship Bay Estate Winery is Fred Di Profio, who is the winemaker at PondView and Di Profio Wines (which is owned by Fred's parents). Unfortunately, for licensing reasons, Burnt Ship Bay wines are not available for tasting at PondView.
Anyway, once I got the info I was looking for about Burnt Ship Bay, we turned our attention back to what PondView is serving for Days of Wine and Chocolate. I have to say, when I read they are serving a chocolate coated strawberry, I was kind underwhelmed. The choice didn't seem that creative or special.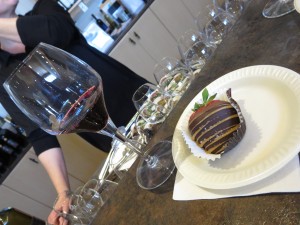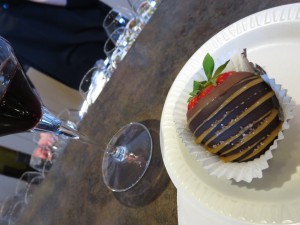 Well, the strawberries were not just special — they were spectacular — in taste, as well as in attractiveness.  Apparently the strawberries are made by a local company called Strawberry Obsessions.  For this event PondView is serving their 2012 Cabernet Merlot Reserve paired with strawberries that are first dipped in milk chocolate and then dipped in dark chocolate, and then drizzled with caramel and dusted with sea salt. Both of us agreed that the strawberries were the culinary highlight of the day.
We decided to end the day as we had started — with some bubbly and a truffle. Trius Winery at Hillebrand had just what we were looking for. They are serving their Trius Brut Rosé paired with a dark chocolate and bacon truffle.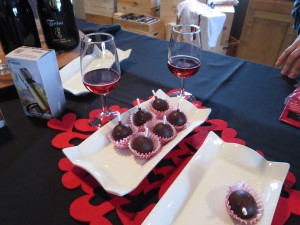 Days of Wine and Chocolate continues on weekends (Fridays – Sundays) this month.