Have you ever participated in one of the coordinated passport events wineries run in a particular region? If you haven't, you should… And if you have – let's compare notes about it.
The Days of Wine and Chocolate event is currently going on all this month. The marketing folks at the Wineries of Niagara-on-the-Lake gave me a pair of passports, and a friend and I checked it out on Friday.
The Basics
Passport programs are brilliantly straightforward. You buy the passport (the pass) and then head to your favourite participating winery – or better yet, one you've never tried! At each winery, you get a sample of some nibble and a wine they've paired with that delectable bite. The pairings are based on the theme – in the case of the Days of Wine and Chocolate you can guess what the theme is….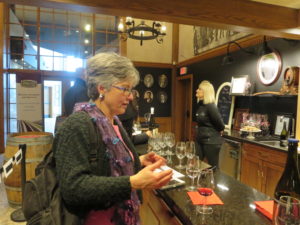 Planning Your Day?
Because I invited my friend, I felt responsible for planning our day a bit. I know my friend didn't care – she looked at it as just a great way to spend some time together, which is another great excuse to order up a couple passports!
So, I decided to frame our day around a few specifics – a few specific pairings that intrigued me and a few wineries that I was especially interested in visiting. First, I wanted to stop in at The Hare Wine Company – it's a brand new winery on Old Stone Road. I also planned on stopping in at Konzelmann Estate Winery – I thought it would be interesting to compare a brand new winery (Hare) with one of the original wineries of the area (Konzelmann). I also wanted to stop in at Lailey – it changed hands last year and I wanted to learn a bit more about their plans going forward.
I also had the list of what each winery was serving and I had marked some that I thought might be especially interesting. One of the impressive things about the Days of Wine and Chocolate theme is how creative the wineries are with incorporating chocolate into different food. For example, cocoa aioli on a smoked meat sandwich, chocolate drizzled popcorn, a dark chocolate and bacon brownie, dark chocolate mole sauce.
The Hare Wine Company
The Hare Wine Company has only been open about three months. I had perused their website before we left and it had a lot of interesting information about the loyalist history. But, you never get a sense of what the winery is aiming to be from a website – you need to see it in person to get that.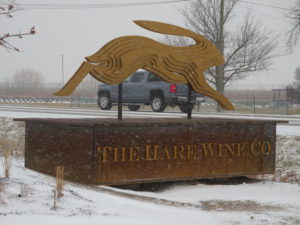 Sommelier and assistant cellar master Alina Trefry was excited to tell us about the winery and their plans. I had passed it before and was amazed at its size – not exactly a roadside stand. Alina explained the architecture and how well planned it is – everything from space to let food trucks into the courtyard, to the fact that the displays are all on wheels so they can move them around for different events and weddings and such. Here's a short video of Alina talking a bit about the winery.
I had read that the building is crafted from re-claimed building materials and Alina confirmed that. As well, someone had given me a heads-up about one of the unique side rooms, so I asked about it. Indeed, they have a private tasting room off the main hall whose walls are made of old barrels. If you visit the winery and they aren't too busy, ask if you can see it – the three dimensional effect is very neat!
They have 12 acres under vine: half are planted with Riesling and half with Vidal. They also locally source other grapes. They have four different series of wines in different price ranges – from their Jack Rabbit series ($14-$16 range) to their Noble series, which currently features a $120 Cab Franc appassimento blend. Here's a short video of Alina describing the Noble series.
For Days of Wine and Chocolate they were serving the 2013 Crown Land Red with Ecuadorian bitter dark chocolate with freeze-dried strawberries. To be honest – when we read the description, it didn't appeal to me OR my friend. But, we were there and it would have been rude to turn it down.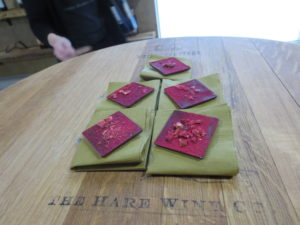 Well, what a delicious surprise. The chocolate and the Cab Franc were Delicious. Alina said the chocolate was made for them by a local chocolatier and, it featured a dusting of raspberry powder n addition to the freeze-dried strawberries. The whole thing – the chocolate and wine – creates an explosion of sweet and tart. I was hoping the chocolate was available for purchase at the winery, but it wasn't. But, Alina was happy to share that it came from Willow Cakes and Pastries (Mary and Mississauga Streets in Niagara-on-the-Lake).
Lailey Winery
Our last stop of the day was Lailey Winery. As I mentioned, I knew that the winery, which used to be called Lailey Vineyard, has changed hands. The new owners are John Chang and Allison Lu. Besides the subtle name change, the first thing you notice that's different is the totems – there's one outside and one inside. The new owners also own wineries in BC and, as the woman who served us explained, the totems are meant to greet visitors and as a connection to the new owners' ties to BC.
The other immediately noticeable difference is that the tasting room has tripled in size. When I mentioned that, our server explained it's because they now get a lot of buses and it's easier to accommodate groups.
Owner Allison has taken over the winemaking. (Derek Barnett is now working out of Karlo Estates in Prince Edward County.) Many of the wines on the shelves – including the 2013 Sauvignon Blanc Fume that was featured in the Days of Wine and Chocolate pairing – are vintages that were crafted by Barnett.
Despite the reference to fume in the name, I didn't pick up much smokiness in the Sauvignon Blanc. They paired it with a petite lemon tart that was to die for! Again, I asked who made the tarts and I was told they sourced it from the Watering Can in Vineland (3711 King Street) – definitely a café that would be worth checking out.
It will be interesting to watch how Lailey Winery will change. Rumour has it that they'll focus primarily on icewine and that much of their production will be for export. We'll see… Meanwhile, for the many folks who loved what Derek produced, stop in to stock up before it's all gone.
Lunch
The only other pre-planning I had done was finding a place for lunch. I had a short list of places I had wanted to try. One of them was The Old Winery Restaurant on Niagara Stone Road. When I happened to ask someone at Konzelmann for lunch suggestions, he mentioned that one. So, that's where we went. The menu's diverse, the prices reasonable and the food and service were good. In short – it's a place I feel confident recommending.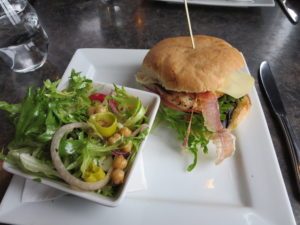 I'll be heading down to NOL again for Days of Wine and Chocolate, and so stay tuned.  Oh – and watch for a separate post about Konzelmann – we did their Junk Food Pairing tasting, which was great!