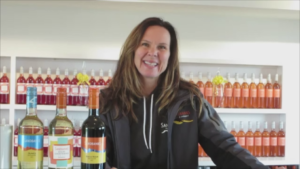 I love Prince Edward County and always look for reasons to visit. This week I had a sad reason – the funeral of a friend's mother. Because it was a planned trip on a weekday, I decided to see if Catherine Langlois – the winemaker/owner of Sandbanks Estate Winery might be in that day. I dropped the winery an e-mail to ask about meeting Catherine. They got back to me right away and we set it up a meeting.
I love meeting winemakers and have found it especially interesting chatting with women winemakers. Catherine was kind enough to take time from her busy schedule to meet with me and she let me film a short video with her. Click here to watch the video.
As I mentioned to Catherine when we were done shooting the video, I think Sandbanks is an incredibly inviting place. I've often thought about why that is. I think lots has to do with the colour scheme and the welcoming lawn full of colourful Muskoka chairs. From the very first time a friend and I were tooling down the Loyalist Parkway headed toward Picton, as we came upon the winery, we were drawn like a magnet to stop in. I imagine that's how lots of people "discover" Sandbanks Estate Winery.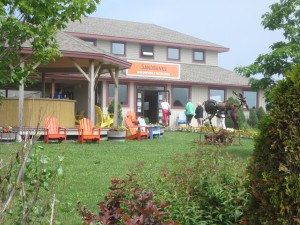 After meeting Catherine, I now realize that the winery's ambiance is nothing less than a manifestation of Catherine's friendliness, enthusiasm, and warmth.