I played hooky from my real work today and a girlfriend and I stopped in at some wineries for the first day of the annual Days of Wine and Chocolate event. The wineries of Niagara-on-the-Lake have been running this February event for some time but this was the first time I've been.
En route to the wineries we stopped in at Criveller Cakes in Niagara Falls – a fabulous European pastry and chocolate shop. While there, we sampled a few decadent desserts, so when we were choosing the wineries we'd stop in at, we made sure we stopped at a few that had pairings that didn't involve dessert.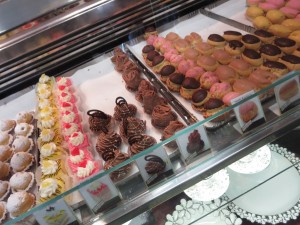 We stopped at four wineries – two that were featuring pairings with savory nibbles, and two that were featuring pairings with dessert items. Rancourt Winery served their lovely, oaky 2013 Chardonnay Reserve paired with Lobster Bisque with White Chocolate Shavings. The oak in the Chardonnay paired very well with the rich bisque.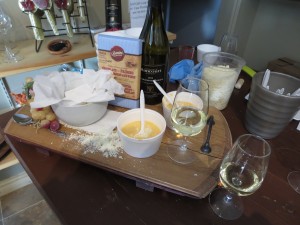 Stratus was serving their 2010 Tollgate Fume Blanc paired with Roasted Fennel, Beet, & Dark Chocolate Salad prepared by Treadwell's. One of the few tastes I really do not like is licorice – and fennel is basically a licorice-flavoured plant. So, let's just say I was ambivalent about whether to stop in at Stratus. But, I do love Fume Blanc (and it's not a particularly common wine these days in Ontario), so I thought I should be open to the idea. Well – I'm sure glad I did.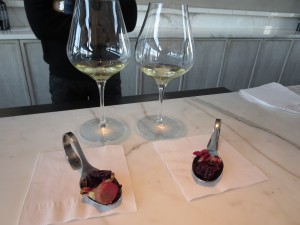 The wine was gorgeous and the appetizer was exceptional. The roasting seemed to take away the (dreaded) licorice flavour and the sugars in the beets. The vinaigrette had little nuggets of chocolate, and a week bit of crunch and a lovely finish that brings the whole thing together. This pairing is one of the best I've had at such events. Don't miss it – even one of the ingredients turns you off – the whole truly is greater than the sum of its parts.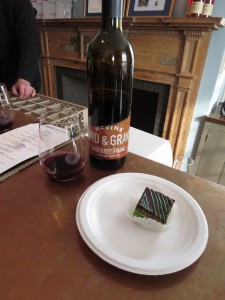 Ravine Vineyards is serving their not-yet-released 2012 Sand & Gravel Cabernet Franc and they are pairing it with a light, tasty Chocolate Mint Opera Cake. The pastry chef at Ravine did a lovely job with the opera cake – just a hint of mint. This too was a surprisingly tasty pairing.
Our last stop was Jackson-Triggs. They are serving their 2012 Grand Reserve Shiraz paired with a Red Wine Chocolate Cake with Smoked Almond Cream. The Shiraz is very nice and it pairs well with the cake – but the cake was less delicate than other desserts we had sampled today, and I thought it had a bit too much cinnamon. (The spice might have been in the red wine reduction that they drizzled over the cake along with the smoked almond cream, rather than in the cake – it was hard to say.)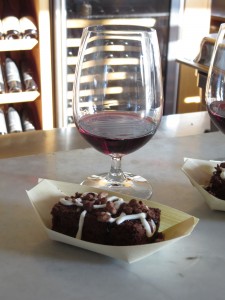 Days of Wine and Chocolate continues on Fridays-Sundays (11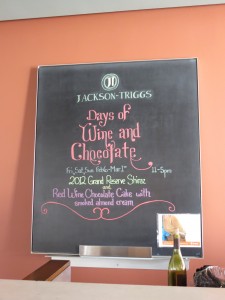 -5 p.m.) all month.